Katia Beckett
I am so glad to hear that M3 is back!  I hope you remember a Russian girl with an American husband who used to be a part of M3 events and meetings a whole ago. We moved to Charlotte, NC two years ago. Now I work at WTVI PBS Charlotte at Membership Department and our story was filmed for our local weekly Carolina Impact program that PBS Charlotte production produces. I just wanted to say hi to everyone and share this video. M3 was my first step in America and I remember how much fun we had at M3 Open Studio at Mark Eden's house.
Here is a link to the segment with the whole 5-minute video where our story is one of them:
https://www.youtube.com/watch?v=tatcDXjeIak&feature=youtu.be&t=10m36s
_____________
Matthew Dayton
Greetings M3ers. It's been a busy year as usual. This past weekend I helped Cat with a shot-for-shot recreation of the music video for 'Sabotage' by The Beastie Boys featuring an all-female cast. It was a hectic weekend of running around on roofs and causing mayhem. My personal time has gone to writing, photography, experimenting with other visual arts, and hatching plans for future projects.  This year Treefort finally wrapped post-production on our Detroit charter school documentary, 'The Irreplaceables', a project that started about 4 years ago. Since then it's all about finishing Thaw, I've been working on a title sequence as David fine-tunes the cut. We're hoping to schedule another test screening now that it's a feature.  It's a year old now, but a short experimental piece from one of two cross-country roadtrips last year.
_____________
Aaron Dennis
Stone Hut Studios
Stone Hut Studios is busier than ever! We currently have over 30 videos in progress.  We've been travelling all over the state working on  for a short-documentary series about people whose lives are affected by the Great Lakes – watch for that being released throughout 2017.  Over the last year, we've been producing a fun series of work for NMC, including the latest TV campaign.   We've been doing a lot of work with local non-profits including Groundwork, The Community Foundation, Goodwill and  here's a fun one we made for GTRLC recently.    We have a new downtown office and our staff has grown to include the multi-talented Sawyer Harris and the promising up-and-coming producer Midori Dennis (photos attached).
_____________
J. Mark Eiden
Reel Incredible
October 2016  I am in the process of producing a reality series pilot called "Reel Incredible."  We have been shooting background footage over the last few months and will soon head out on the open road to capture some amazing stories. The premise of the show is to tie in my experiences as a stuntman, detective and filmmaker into a 60 minute episodic series. Included in the show, will be some behind-the-scenes stunt/FX work, some crazy ideas/fun and most importantly, capturing stories on the road. We will be throwing the preverbal dart at the map, pack up the production vehicle and drive to the destination. Once we arrive, I will begin my investigative tactics on finding and shooting a show-worthy story. In November, I will hopefully take possession of my newest camera, a Panasonic UX-180 that is on pre-order. There are not many specs on it yet, however, the pro camcorder will likely be outfitted with a 20x zoom lens, 1" sensor and have the capability to shoot in darkness with the infrared components; should be perfect for the show!
On another note, I just picked up a pretty cool addition to our fleet. Yes, a one ton news van with a 42' telescoping mast, onboard 6500 watt generator and more. Soon, I will send it off to get rigged up for film/TV productions. My hope is to rent the van out with myself for productions in the Midwest. I already have interest coming from filmmakers in the Chicago region.  More to come.
_____________
Tom Emmott
Waiting on 3 films that I appeared in to either be finished or released.
Everything else is theatre related.  Spent 3 months in Holland, MI performing with Hope Summer Repertory theatre this summer.  Co-wrote a one act play that has been submitted to Durango Lively Arts Company for consideration.  That same play will be performed here once the schedules clear for the 4 actors.  Theatre and film auditions coming up.
Last fall I submitted my second 3 minute film to the SuperGR8 Film Festival in Harrisonburg, VA.  I wrote, directed and produced these films using local actors.  Matthew Von Dayton was the Director of Photography.  These movies are shot with an 8mm camera which has no sound.  Sound, music, or voice overs can be added later.  All editing is done within the camera.  The categories are Black and White or Color.  I am about to begin work on my 3rd film for the festival.  October 21st is the submission deadline.  I have appeared in 3 other 8mm films as an actor for the same festival.
_____________
Rich Jackson
Rich Jackson here, we just finished production on a documentary: "Stuck In Traffic, Modern-Day Slavery In Michigan". It was produced by Lisa Zahodne and myself. I was also the Director, Editor & Motion Graphics Artist. As the name implies, it is about the hidden world of sex trafficking in Michigan. We interviewed experts from law enforcement, State government and the faith based and medical communities along with three actual survivors. The Wayne County Medical Society funded the project. The goal is to draw awareness and generate discussion on the topic.  We used an all-Michigan crew. Running time is 40 minutes. It can be viewed here:
_____________
Vince Hancock
I never thought my niche interest in haunted attractions would amount to much.  Journalism was my intended path, but it was paved over by the internet.  The asphalt turned out to be a mistake.  It buckled from the icy accumulation of content–all the King's horses and all the King's men blanched at the price of per-mile repair.  On to another path.
Almost ten years ago, the largest October event in Manistee County reached out a helping hand to the other Autumn and Halloween activities.  Collaborative marketing has included the basic strategies of a printed brochure of events and related social media.  But it needed something more to engage the public.  So a mascot developed:  the Gatekeeper.  A few short films over the years have gradually built up his character and his backstory.  This is the latest.
Video link:
https://www.youtube.com/watch?v=KgMBWjftNRo
Related links:
http://MacabreManisteeCounty.com – main site
http://twitter.com/MMCGatekeeper – the Gatekeeper's attempts at tweets
_____________
Dan Kelly
DOG.MOVIE
Now you're reading MY update, muhahaa! The ONLY reason I asked for updates is just to spread my own memes under the camouflage of community! Finally, my big payoff after 5 years of herding you cats. The fruition of the master plan! Dan Kelly is 100% agenda. It's a dog eat dog world out there. And that goes double for all you WMFVA people.
And speaking of dogs, my DOG (Daughter of God) is in the process of gentle release. Scifi featurette, 11 years in the making? You remember, right? And check out this designer URL… dog.movie. So what's gentle release mean? How about we start with a weekly podcast about the making of Daughter of God, mostly true, with special guests? The Daughter of Godcast podcast. Feel the awesome. Explicit content! That's what you gotta say if there's bad words. We're already on Episode 006!
I invite you to come along for the ride. That's social media speak for like, follow and retweet my every move. Definitely join the mailing list. You know tho, whatever. If Northern Michiganders can't recognize a stellar moment in movie history when it's doing backflips off their SUP, then que sera sera. Besides, Daughter of God already has the entire Indian subcontinent in the bag, and chunks of China too. So, yeah. Come along for the ride, if you dare.  http://dog.movie.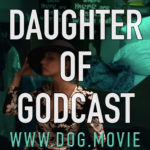 _____________
Bill Latka
Rivet Entertainment
Bill Latka and Rivet Entertainment produced a film in 2015 that is now making a film festival run. Year By The Sea stars Karen Allen, Celia Imrie and others. Hoping to reclaim who she was before being a wife and mother, an empty nester retreats to Cape Cod where she embarks upon a quest to set herself free. It is based on the NYT best-selling memoir by JOAN ANDERSON. http://www.yearbythesea.com/
Nine years in the making, the film was shot in Cape Cod in early spring 2015 and edited in New York last summer and fall. It has appeared in about 13 film festivals so far, and is winning all sorts of audience, screenplay, and actor awards. It will be shown locally on October 20 at the Frankfort Film Festival. I will be there for Q&A after the film.
On the advertising and video front, we've produced projects for National Wildlife Federation, Groundwork Center, Heilman Center for Pain & Spine Care, and others. Earlier this year, I also produced a series of web videos for Ford – shooting in 8 states over 6 months.
Here's one of the many videos: https://www.youtube.com/watch?v=6zKJmk0Fajo
_____________
Robin Pearson
I'm a DJ at NMC's Public Radio Station WMNC every other Wednesday for their Afternoon Jazz Show from 2 – 5 PM.
My husband Dan Pearson and I have done 2 more scenes as Talent for the Grand Traverse Resort Commercials often seen on TV during golf tournament coverage on the network stations.
My home recording studio has been dismantled while we're in a rental cottage and building a new house but despite that I recorded 2 PSA's for the organization SCORE (Active & Retired Business Mentors) helping people start up and improve businesses.  I often hear it around 7:30 PM on TV channel 7 & 4.
I have a piece in the October Art Mixer Fiber Art Show.  Public Reception is at the Grand Traverse Distillery on Front Street, Oct 14th from 4-8 PM.  Stop by and say hi if you can.
Other than living on an Alpaca Farm and hiking in the woods almost every day with my trusty companions Levi and Dan that's about it for now…
_____________
Barb Smith
I have some books, that may be outdated but are free for the asking. They are:
Premiere Elements 8-The Missing Manual (the book that should have been in the box),
Adobe Premier Elements 10 Classroom in a Book, Photoshop Elements 10-The Missing Manual (the book that should have been in the box).
If anyone is interested, let me know. I'm in Beulah so handoff would be easy.
_____________
Cody Stowe
WeFlaps (search it on facebook)
What is Weflaps:
A webcomic of relatable, and uncomfortable social interactions and humorous shorts in the form of comic strips and panels. Might become a Youtube Animator Account in early 2016/ 2017 to increase revenue so in hand I may be able to purchase equipment to increase speed in production.
When did Weflaps Start:
July 2016
How did it start:
Someone at work told me to stop drawing on the white board at work, so I started a Facebook Page called WeFlaps and posted it there, promoted a couple posts and three months later, I have 21K followers, and over 4 million reached on Facebook. I created a site (with my minimal web skills, still working on it) and make sales via merchandise and barely at the moment with Adsense.
What is the future like for Weflaps:
Hopefully it becomes an animators/entertainers channel that caters to the will of the Internets current interests on Youtube. Since Youtube's algorithm favors time, the channel will fill with mainstream comedy animation produced entirely by one person ( part of a plan).
Here are some samples of what Weflaps has created and …shit.
this is where I earn some Ad revenue on a dedicated webcomic site:
https://tapastic.com/series/WeFlaps-2016
This is the main facebook page:
https://www.facebook.com/WeFlaps/
Heres the store where I sell merchandise (again, everything still in progress)
https://shop.spreadshirt.com/WeFlaps